Sport, Grief & Clare Balding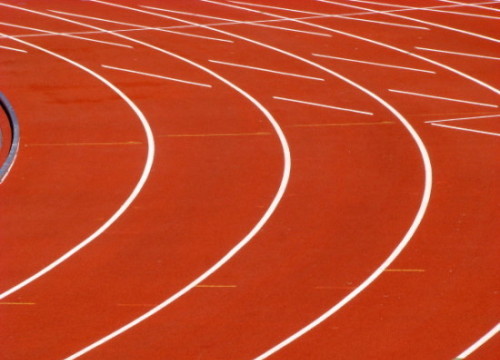 Anyone see last week's opening ceremony for the Glasgow Commonwealth Games?
I did. And it got me thinking about the last time we all went a bit sporting gaga.
Cast your minds back two years. London 2012. And the Olympics' opening ceremony. It was a right old Great-British-fest wasn't it? I guess that was the point. Jam-packed with historic and cultural riches: The fertile land. Industrial revolution… 007.
Glasgow on the other hand seemed to consist of a lot of Scottie dogs and a bunch of dancing Tunnocks teacakes.
It was all rather entertaining. But surely there's more to Scottish culture than that. Oh hang on. Sorry. I forgot. They did have John Barrowman in purple tartan.
Still. It took me right back to July 2012. The opening ceremony of the London Olympics. Slap-bang the day after Mum's funeral. As if everything else at that time didn't feel surreal enough already!
I had sat in front of the telly transfixed. In only the way that recently bereaved people can. Cried through the whole bloomin' ceremony. And not just those silent tears you can wipe away before anyone else sees. This was some proper serious shoulder-shaking. And believe it or not, I wasn't even crying with sadness. Well. Maybe that's not strictly true. I was sort of permanently infused with sadness back then. (I had been marinading in it for the last 18 months since her diagnosis).
But no. These were mostly tears of enormous pride. Celebration.
I didn't stand a chance from the off really. I tend to get teary at almost anything vaguely moving. Even Masterchef. Mum was the same. 'Overly empathetic' I think you'd call it. (No co-incidence it includes the word 'pathetic', I know) Together we were awful. Couldn't even watch an episode of DIY SOS together without needing a hanky. Ridiculous. But what can I say? Me and Mum just knew how much that open plan living room meant to those poor people…
It was inevitable I was going to be an emotional wreck for the opening of the Olympics.
The calculation was a simple one: one day after saying goodbye to Mum + the months of hype and Team GB build-up + a £27,000,000 extravaganza of British achievements = just forget it, Wilson!
It wasn't only me though. From what I heard there were plenty of other people – of the non recently-bereaved variety – who were struggling with their tear-ducts just as much.
It was a funny old time. The Olympics. There was a kind of magic in the air. For everyone.
Certainly in London. Just travelling to work on the tube felt sort of celebratory. There was an unexpected optimism. Christ, us commuters even talked to each other!
And let's not forget the sport. I got so into it. Even on my very low days. It became my emotional crutch. There's something surprisingly therapeutic about watching repetitive sport. Soothing, even. Especially the swimming. I was addicted.
I came to rely on the ever-constant re-assuring presence of Clare Balding on the TV screen. Michael Phelps' torso didn't hurt either.
In fact. Do you think it's possible for someone to get a retrospective Olympic medal for distraction services to the bereaved?
Sorry. Was that sexist and demeaning to men? Oh well. Three words in my defence: female beach volleyball.
Yes. Those few weeks of the games were such a lift. At a time when I felt I'd lost everything. They got me through that first period of Mum's death. Her absence in my life felt raw. I missed her terribly. Yet there was something about all that national positivity going on around me that felt like it was a reflection of her. It gave me hope. Comfort.
The opening ceremony was the pinnacle of that.
Somehow Danny Boyle's spectacular pageant took on a whole new significance to me. Way beyond just the Olympic Games and the achievements of our country. In my 'creative' mind it became all about Mum. A celebration of her and everything she was, did, said, loved and believed.
In some ways I felt sad she didn't get to see it. I know she'd have loved it. But mostly it felt like such wonderful timing – that I was able to unofficially 'hijack' the opening ceremony of the London Olympics to celebrate my Mum!
A £27,000,000 national send-off of sorts. Seemed fitting for the woman who gave me everything.
So finding myself watching the Glasgow games' opening ceremony last week it made me think of Mum. And then watching the swimming at the weekend. Again, Mum. It's funny really. Considering we never really watched sport together. Unless of course you count I'm a Celebrity…
And just as the London 2012 Olympics weirdly morphed – in my head at least – into a celebration of Mum. Then I guess the 2014 Glasgow Commonwealth Games have too. A sort of 2 year memorial if you like.
Which means, logically – in as far as logic can be applied to my 'creative' mind – that last week's Glasgow opening ceremony was all about Mum as well.
And if you were to ask anyone who knew her well to list the things she loved in life. I'd put money on them saying: Dogs. Chocolate. Dancing.
Honest!
So you see. Glasgow's opening ceremony of Scottie dogs and dancing Tunnocks teacakes suddenly seem absolutely perfect after all.
Amazing what a bit of perspective can do
Oh. And let's not forget that final cherry on top: John Barrowman. Mum always had a thing about him too. Thought he was the bee's knees. Even more than – dare I say it – Dale Winton….
Hmm, noticing a trend here?
So. Here's to the Glasgow Commonwealth Games: to everyone who's taking part, to all those winning medals and to all the unsung heroes making it happen.
Oh. And thanks again Glasgow for another opening ceremony in honour of Mum – she'd have loved it!
Subscribe below for future posts by email: