Change Management & Battenberg Cake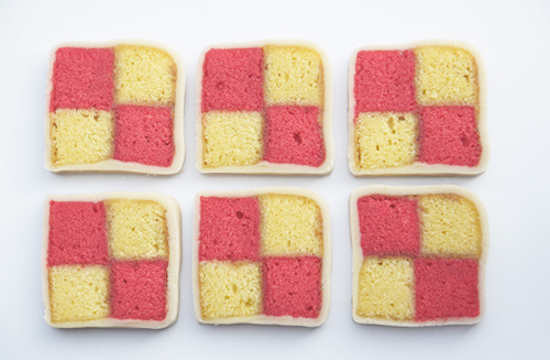 Hello stranger.
Sorry you've not seen much of me 'round these parts.
Funny Matters has had somewhat of an unplanned hiatus.
A mini-break if you like.
I guess I could blame it on the amazingly fun girls' trip to New York I've just come back from.
Or on the TV project I'm currently co-developing
Or on changing over my Summer wardrobe to my Winter one (please tell me there are other losers out there who do this!)
But. That would all be total balderdash. Codswallop. Big fat porky pies.
Because. The truth is. I've just been too busy – being happy.
Plain old 100% cocoa solids happy.
And the reason for the aforementioned shameless public display of happiness?
It's simple:
I got engaged!
To be married!
To the man to top all men!
And I have to say – despite myself and my modern new-fangled and liberal ideas of marriage and relationships in the 21st century – getting betrothed has actually been rather blimmin' exciting. For reasons that are unfathomable even to myself.
But as ever. Certainly now – in this new post-Mum split-personality existence – there is something not quite right.
It's hard to define. Tricky to put my finger on.
Like that hair in your eye you can't quite get hold of.
Or the crumb in the back of your throat that just won't budge.
Or those pants that get stuck up your crack… (hmm, just me?)
And it all boils down to a six letter word:
C. H. A. N. G. E
As it goes, I've always liked to think I'm pretty good with change.
I applaud it. Welcome it. Like to make it feel at home – with a cup of tea and a slice of Battenberg.
Admittedly maybe less now than when I was younger. But still. Change – to me – it's my friend, not my foe.
But let's face it – sometimes, even your friends can overstay their welcome.
Let me be honest. Over the past few years, Change has been more like one of those pain-in-the-arse friends. The ones who get kicked out of their flat, ask to stay for a couple of nights, and 3 months later are still sleeping on your sofa, making your house reek of weed.
A most unwelcome guest.
When I take the time to look back. At the past few years. I can't quite get my tiny head around how much my reality has changed.
This time 4 years ago I was living in Woolwich. Living the standard London life of content discontentment. Shacked up with my boyfriend of 9 years. Working in a well-paid but soulless job in Canary Wharf.
My wonderfully healthy, fit, energetic and enthusiastic Mum – who'd just been helping out with the arrival of my twin nephew and niece only weeks before – had had a hard-to-shift cold which'd developed into pneumonia. And landed her in hospital. It wasn't nice at all. Especially as it clashed with her birthday. But as far as we were concerned – she was on the mend. And we were looking forward to Christmas.
Little did we know.
Little did we know that in a few days time a routine x-ray would reveal 'shadows' on her lungs. Which only weeks later would be confirmed to be advanced lung cancer. Working its way into her body. And our family's life.
Little did we know that after Christmas we'd be told she had a life expectancy of just a year. 18 months if she was 'lucky'.
Little did we know that in a couple of months my boyfriend and I would have moved house. To rent near my dying mum. And that in just 10 months, that same boyfriend would have left me.
And little did we know that in just over 18 months time my much-adored Mum would be dead. And I would be at the lowest and most alone I've even been in my life.
Now that's what I call Change.
The type of Change that aint getting no slice of Battenberg from me, thanks very much.
Mum died in July 2012. It's been 2 and half years since then. And jeez. How much my life has changed again.
I've met someone else. Someone amazing.
I've left my shitty-well-paid-office job.
I've moved to Brighton.
I'm working on two TV scripts with my best friends.
I spend my days writing, meeting inspiring people and going to coffee houses
And now. I'm getting married.
My life has changed beyond all recognition. Certainly compared to this time 4 years ago, before all this started. But also in just the past 2 and a half years since Mum died.
I now have a life that even my Mum wouldn't recognise. And that – I've realised – is the problem!
Yes. It's flippin' fantastic. My life is moving on. Lots of exciting things are happening. I'm happy. And I know Mum would be happy.
But there's a part of me that feels it's wrong somehow.
Because for all these wonderful things that have been happening to me. My mum's not been around to know about them. To experience them. To share them with me.
She doesn't know the place where I live. She's never sat on my bed and seen the amazing views of the sea that I have every morning. Or the pictures that hang on the walls. Or the kitchen that I don't cook in!
She's never met the man that I love. The person I want to spent the rest of my life with. She doesn't know how much he looks after me. And how much he (weirdly) reminds me of her.
And. She won't be at our wedding.
She was always part of everything. Everything important. And everything insignificant.
So how can anything ever be the same again without her?
These past 4 years: My Mum's diagnosis, the break-up, her decline and death, the months that followed. They have defined me as the person I am today.
It's taken its toll on me. But also enriched me. In ways I probably could never fully express.
Logically I don't want to define myself by that experience anymore.
I am so much more than that horrific period.
But it is difficult not to.
Perhaps it's a way of holding my Mum close. So that I always feel linked to her somehow.
But I'm starting to realise. Partly through writing this blog. That I always will be.
I'll always talk about her. Laugh about the funny things she said or did. Her quirks. The things that wound me up. Or made my heart melt.
She will always be part of my life and my story. I don't need to cling on too much.
I'm realising that it'll soon be time to let go of that old story. To start another story. One that involves people and places and things that maybe she never met or saw but which I know she would choose for me.
And I know she's still there really….behind that wonderful sea view. Behind me meeting Andrew. Even the move to Brighton (she always fancied living by the sea). And in everything else that's in store for me. For us.
I think it's probably part of the process of grieving.
Getting engaged. Planning our wedding. It's a way of bringing one phase of grief to a close. And moving on with a future without her. Missing her, yes. But celebrating her too.
I admit I've never been all that conventional. But next year. When we get married. I certainly don't want a conventional wedding.
I don't want any of the roles and titles that are normally made so much of. Because it'll only emphasise the one that will be missing: The Mother of The Bride.
So. We're scrapping these titles. There'll be no Bridesmaids. No Best Man. No Father of The Bride.
There'll just be me and Andrew and the people who matter to us. And of course, that will include Mum.
Oh yes, she'll be there. In my thoughts. In my heart. In everyone's memories of her.
And most importantly, in the cake she'd always get me whenever I was over: a lovely slice of Battenberg.
***
Subscribe below for future posts by email: