Break-up. Breakdown. Breakthrough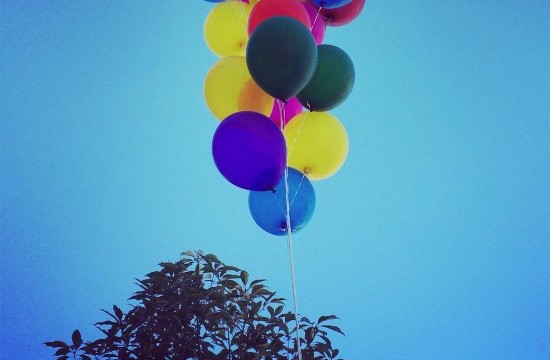 The 25th of October 2011.
I remember it well. 
It was my Mum and step-dad David's 25th wedding anniversary.
I wanted to make a fuss of her. Of them. After all. It was 25 years.
And not just that: If we were to believe Mum's oncologist. It would also be their last.
In the past 9 months since her terminal diagnosis there had been little cause for celebration.
It felt important to make the most of the few opportunities we had.
For something. Anything. To celebrate.
I was juggling the messy balls that were now my life:
my hateful Canary Wharf job;
coming to terms with Mum's out-of-the-blue diagnosis;
making all the oncology appointments back in Herts;
researching miracle cures (there weren't any);
keeping a flailing long-term relationship afloat;
and spending as much quality time as I had left with Mum.
It felt important to throw myself into the anniversary celebrations.
To do everything I could to make it special for Mum. To celebrate her and their life together.
For once. To make it about something other than hospital visits. Medication. And blood counts.
Mum and David didn't have the money to spend on extravagant holidays. Or fancy meals out.
It's always upset me. That she worked so hard. Struggled as a single parent to bring up my brother and I. And there she was – still struggling at the end.
But her and David were happy. Happy just being together. Watching television. Still holding hands after 25 years.
And fortunately. My hateful Canary Wharf job paid well. So I was able to spend it on them.
It was probably the only thing that made that hideous job bearable.
So. For their 25th anniversary. I had a plan. A Happy Plan.
It had three parts:
Part One: I'd arranged a long weekend break. The weekend after their anniversary. All of us. Mum, David, me and my partner.
Two sets of couples. A grand old hotel up north. A place she'd often talked about. Where we'd all go together one day.
We'd have rooms down the corridor from each other. We'd go for walks in the grounds. Have nice meals. Sit together in the grand lounge bar, taking pre-dinner drinks and cheekily people-watching.
It would be a rare chance to forget all the shit. To enjoy ourselves and each other.
And. In the meantime. Part Two: The weekend before. I'd planned a small party. At our house. Three doors down.
Not a natural cook at the best of times (I once created a dish I called Prawn Bourguignon… and surprise surprise, it didn't work!) I called on the support of my good friends, Mark & Spencer. God, I Iove those boys…
A small fortune was spent on food. Stuff that was healthy. Delicious. That I knew Mum'd love. Plus an anniversary cake. Iced and decorated.
I did the house up like Liberace's Christmas tree.
It was dripping in silver cheer: streamers; emblazoned party banners; tiny weeny silver table confetti; sparkly silver fountain table pieces dotted all over the place.
Totally over the top. More to make Mum laugh than anything else.
But. Guess what happened…
It got cancelled.
Mum woke up that morning not feeling well.
Of course I was concerned about her. Wanted her to feel better.
But mostly. I was just so bloody disappointed. Angry, even.
Wasn't it unfair enough?! To be given a terminal diagnosis of lung cancer. But then not to get the bastard chance to enjoy the few moments of happiness left?!
A few days later was their actual anniversary. She was feeling better again by now. And I was determined that this would be a happier day for her.
Cue Part Three: I was at work in the day. I'd arranged for them to have an early dinner out. The two of them. In a lovely fancy French restaurant in a nearby village.
The plan was for me to come by to the house afterwards. For some jolliness. To make a fuss of them. And generally make the most of a happy moment.
But. Blow me down with a shitting feather.
Didn't it all just get right-royally screwed up once again?!
Because that day. 25th October 2011.
As well as being the 25th wedding anniversary of Mum and David.
It was also the day that my boyfriend of almost 10 years decided to leave me.
I got home from work at about 6.30pm. By 7.30pm it was game over.
And I was a complete mess.
I so wanted their anniversary to be a beacon of positivity. Celebration. A legitimate reason to focus on happiness and love. Rather than all the darkness and death it had been since diagnosis.
But bam! I'd been jilted. Walked out on. Abandoned at my one hour of need.
After almost 10 years together. And it was that sodding day he decided to go.
I was so angry with him.
The fact that he left me after almost 10 years just nine months after Mum had been given 12-18 months to live. That was one thing.
But what really got me. Was that he did it then. On their anniversary. When I was desperate for happy times for Mum.
He'd driven off from our house and I'd wailed. Proper banshee-style
I sobbed. Heaved. Shook.
I felt totally alone and abandoned.
But I had to go and see Mum. Celebrate their anniversary. Make a fuss. Be happy.
I didn't want her to worry about me.
I wanted to take this rare opportunity for lightness. And not blow it with my sad. bad. news.
Besides. It was part of The Happy Plan. The bloody Happy Plan which had gone tits up once already.
I forced myself to stop crying.
Splashed cold water on my eyes to take away the redness.
Waited for the swelling to reduce.
Pinched my arm to stop any more tears.
I just wanted to focus on Mum. For it to be upbeat.
I needed to stay strong. If I broke down now I'd be of no use to her.
"GROW SOME BALLS" I shouted at myself in the mirror.
And I did.
I went over to theirs.
And hey. Those three bloody years at drama school finally came into their own:
I acted the shit out of it. As if everything was just fine.
The evening passed by in a blur. I don't remember it at all.
But when I got home that evening. I lay in that big empty bed. Alone. And howled.
A few days later. I told her.
I had to.
Remember Part One of The Happy Plan? We were all supposed to be going to that grand old hotel up north. Altogether. The four of us.
I couldn't continue making excuses: That he was working late. Or that his car was at the garage.
She didn't seem surprised.
Just upset that I'd not come clean to her before.
She hugged me. Held me tight as I wet her neck with my tears. Pinched my bottom – in that cheeky-but-oh-so-affectionate way we did to make each other feel better.
And so. Off we went. Me – a newly single 36 year old woman – going on holiday with her mum and step-dad to a grand old hotel up north.
I was trying to remain perky. For Mum. But in my head I couldn't believe how my life could cave in on me anymore.
As we drove up there. My murky cloud of sadness travelled with us over the car.
Me sat in the back. Like an overgrown teenager.
Does anyone remember 'Sorry!', that Ronnie Corbett sitcom from the 80s?
I felt a bit like Timothy.
Although.
It turned out.
In actual fact. We had a lovely time. All three of us.
Okay. So the hotel wasn't so much hip. More hip replacement.
I was probably the youngest person there. Discounting of course the members of the prepubescent sequin-covered entertainments team (!).
But once I got my head around that. I actually really enjoyed it.
And not just because I had to. For Mum's sake.
But for mine.
I never had to worry about what I looked like.
No-one cared I had continuously puffy eyes from crying. I was about 30 years younger than most people there. Who gave a damn about puffy eyes?!
And. Even better:
At pretty much any point throughout the day, we could always find a quiz going on somewhere in the hotel. An actual bona-fide excuse for David and I to get competitive. What's not to like?!
I could be as much of a geek as I wanted. And nobody cared.
Roll on old-age, I say.
The Tea-Time Teaser in the lounge bar became part of our routine for the next few days. I even missed it when we left.
Then after dinner. There was ballroom dancing.
Mum and I were hooked. Entertained for hours… And that was just watching the other guests!
They were hilarious.
We made up stories about everyone on the dance floor. Gave them fake names.
Invented imaginary affairs between 'Dolores' (who thought it was still the 1950s) and 'Victor' (who danced like someone had emptied a pot of tiny lobsters in his underpants).
It's funny how I thought that weekend was going to be about me making Mum feel better. Taking her away from everything. And giving her a happy time.
When it turned out that she did exactly that for me too.
Yes. It was a special weekend.
I even got a discount on the ex-boyfriend's cancellation. Quids in!
Oh. And the party back home that got cancelled. We re-arranged it in the end. And it went without a hitch.
I did everything the same as before.
The house got done up like a dog's dinner.
I piled on the food.
It was all pretty much identical. Except one small thing:
No boyfriend.
No boyfriend resenting me for spending too much time with my terminally ill Mum.
No boyfriend making me feel guilty for always being upset behind closed doors. For needing him.
No boyfriend making me go to couples counselling whilst trying to deal with Mum's diagnosis.
Yes. I was upset. I missed him. And I felt a terribly intense sadness.
But there was also a huge sense of relief.
Relief that I could now focus on what was most important:
Mum
***
If you've liked my writing, sign up below to get more: