The Grandchild She'd Never Meet….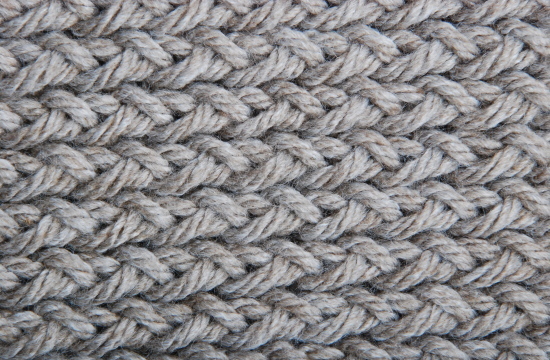 When I was clearing out my Mum's clothes. A few weeks back. I found a bag of her knitting. Unfinished. What she'd been making before she'd died. Maybe not so much 'unfinished'. More 'barely started': a little white baby matinee coat.
I don't know whose baby it was meant for. I still can't work it out.
I know she'd recently finished one for my best friend. And for the next door neighbour. But I can't think who else had been 'expecting' back then.
Mum loved knitting. She'd get totally immersed in whatever she was making. Whether it were a simple scarf. A complex cardigan. A pair of chunky bed-socks. Obsessively lost in a grey blur of clicking needles.
But most of all – she loved knitting for babies.
The first whiff of someone's positive pregnancy test and she'd have those Sirdar patterns out quicker than you could say 'knit one purl two'.
She'd be analysing bump-sizes months in advance. Trying to work out if the new arrival would need a 14-inch cardigan. Or a 16.
She got a kick out of knitting for other people's bundles.
But what she really wanted. Was for me to have a bundle she could knit for.
She was desperate for me to have children. She tried not to make a big deal out of it. She didn't want to pressure me. But it was always there.
She'd be knitting something for someone. And she'd glance up. With that twinkle in her eye. Make a comment about what wool she'd use when it was my turn. A special pattern she'd found.
She tried to be low-key. Off-the-cuff. But you could see the excitement bubbling up.
One time. I was having dinner at hers. This was BC – Before Cancer. As casually as she could, she slid a newspaper clipping across the table to me.
Like a spy with a secret message.
It was about the importance of folic acid in women of child-bearing age. It mentioned asparagus as being a naturally folic-high food.
I could see how hard she was trying to come across as breezy. And I teased her for it. We laughed. And then the subject was changed.
But I did notice after that – whenever I came for dinner – how often asparagus was on the menu!
She'd have absolutely loved for me to have got pregnant.
Loved to have got involved in only the way mothers can with daughters. In just the way her mother had been involved when my brother and I had come along.
He and I were unbelievably close to our much-adored Nan. With pretty much every weekend spent at hers. It was our second home. And she was our second Mum.
So. My heart broke when I saw that 'barely started' matinee coat amongst all Mum's stuff.
I hadn't been able to give her the thing she so longed for. The thing I also so longed for myself. A whole other chapter of life. For us to share.
But there was another reason. An additional reason my heart broke when I saw the beginnings of that tiny weeny baby matinee coat.
And it's something I've not talked about here yet. Mainly – I think – because until now I stupidly didn't see it as connected to my story about Mum. But also. Perhaps. Because it's still quite raw.
15 months after Mum died. This time last year. I had a miscarriage.
I was just before the 12-week mark. 3 months pregnant. The bit where you're supposed to relax and start telling people. The time when the knitting needles would normally come out.
I'd even seen the heartbeat at 7 weeks. Had a little picture of it. True, it looked more like a chilli pepper than a baby. But. Hey – a picture's a picture.
Also. Dangerously. I'd already decided this baby was 'meant to be' somehow.
I'll explain…
You see. The official 'start date' of my pregnancy – the date my last period had begun (sorry to bring periods into this, but it's what they use to work out your due date!) – was 14 July 2013.
Exactly one year. To the day. After Mum had died.
I know it's precisely the kind of thing I excel at – finding meaning and importance in anything. Even where there may be none.
But somehow I'd decided that the significance of that date made everything 'right'.
That even though Mum had cruelly missed this. By one bastard year. She was still involved in some way.
It made it harder somehow. When I miscarried. Not only that I'd I lost the baby. But with it, the comforting belief that was wrapped up in that bloody date. The sign that Mum was around in some way, still part of everything.
Like an earthquake dislodging the sea-floor, the miscarriage sparked an unexpected tsunami of grief in me.
I couldn't even work out what I was grieving for: the baby, Mum, the future that wasn't to be. It was all indistinguishable. One huge fireball of loss, hurt, pain and regret.
Since then. I've had 3 more losses. One was an ectopic pregnancy in February (that's where it implants in your tube instead of your uterus) for which I was injected with a chemo drug to destroy it. And then two very early miscarriages.
AlI-in-all. In the past 12 months. I've had 4 pregnancy losses. My most recent one was just last week.
So. Seeing the beginnings of that baby matinee coat. That Mum had started making. It hit me. In a complicated, mixed-up, indistinguishable fireball kind of a way.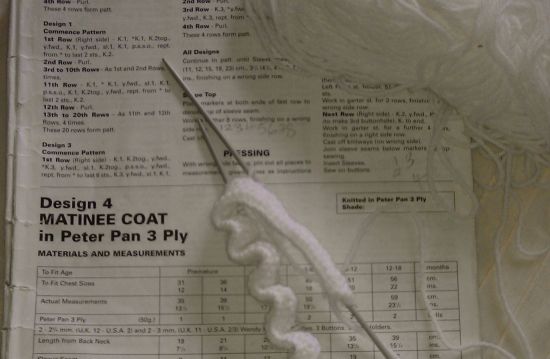 I can't tell you how much I wish I had one of my Mum's knitted matinee coats. For the day I finally manage a full-term healthy baby.
Maybe someone still has one somewhere. One she made them. Saved.
Perhaps they'll let me have it when my time comes. I hope so.
I also have another crazy idea.
That when I am lucky enough. Maybe I can finish what she started. Take that bag of 'barely started' knitting and complete the pattern…
…Although. Who am I kidding? I've no idea how to knit!
Perhaps. Better still. I could ask my partner's Mum to finish it. To continue the pattern just as Mum had started.
I like that idea. A joint grandmothers' venture.
There's something special about that. With – of course – my usual large side-dollop of meaning and significance!
So. No, I still don't know whose baby that matinee jacket was meant for.
But I'd like to think it was mine. For the future grandchild she'd never meet.
Subscribe below for future posts by email: