Beating Your Inner Bridezilla (or How To Control the Weather From Beyond the Grave)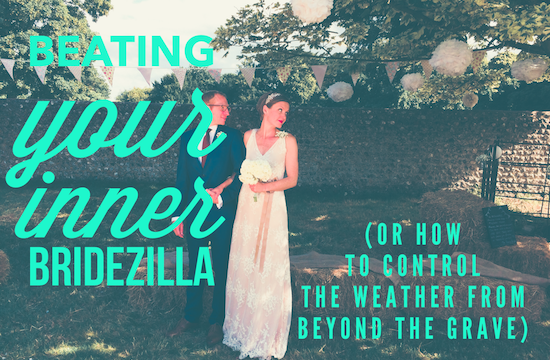 I was determined to be a laid back bride. An easy going wedding planner.
It was one of my major worries about getting married.
You see. I am very easily obsessed.
You could say it's a talent.
I can get obsessive about anything. Cupboard doors not being fully closed. Rooms being pitch black at night. Making sure I finish humming to the end of a tune, even if I'm interrupted half way through.
Christ. I even get obsessive over meditative colouring-in books for adults.
I've got news for you people who are into this – it's not relaxing! It's obsession-inducing:
Just one more area. Another section. One last page. Before I know it, it's 2 in the morning and I can't sleep from over-active colouring-in. Like a troubled child after too many E numbers.
So. The small matter of my own wedding day? With 100 guests?
I knew I had to do something to keep my obsessive alter-ego in check.
There was absolutely no way I was allowing myself to come over all Monica with wedding planning.
No way Jose.
For one, I've never been all that bothered about getting married anyway.
Or planning a wedding day.
It's never been up there on my list of priorities or designated routes to happiness.
But then again. I wasn't all that fussed about zen colouring-in for adults. And look where that got me.
Also though. More importantly. I was determined not to become a cliche.
You know the type. Stressed out. Demanding. Obsessive.
A 'Bridezilla'.
I'd spent far too long cultivating the image of the easy going Tom Boy, only to throw it away over one day in a posh frock.
I needed to come up with a plan. To implement some sort of distraction technique. The oldest trick in the book.
Something to divert my inner Monica's attention. Something big. Shiny. Challenging. That she could really sink her teeth into. Leaving her no time, space or energy to come over all Bridezilla on me.
But what was a sufficiently big enough project to compete with planning your own wedding?
Whatever it was, I knew I needed to do it. And then it would definitely stop me from getting obsessed about weddings. And turning into BZ.
And that. Folks. Is how I ended up agreeing to do my first one woman show. As part of the Brighton Fringe. Performing on my own. For 60 minutes. Without a script. Just two months before the wedding.
That's just how far I'm prepared to go to manage my obsessive streak.
Yes, I'm even obsessive when it comes to finding ways to stop myself being obsessive.
What can I say? I'm a complicated beast. I make no bones of it.
I'm high maintenance disguised as low maintenance.
Meh. Being straightforward is so 2015.
So. I wrote the script. And did the show.
A funny take on grief, love and losing my Mum in 2012.
And very proud of myself I was too. Even got nominated for a Brighton Fringe Award for 'Outstanding Talent'.
But best of all – the plan worked!
I was far too busy cacking my pants for the four months running up to the show to worry about the wedding.
The venue got booked without hassle. The caterer lived round the corner from us. And I bought pretty much the first dress I tried on.
I was even philosophical about the weather.
Well. Planning a wedding in the UK. You don't really have any other choice. If you lay all your chips on having a nice day. Even in July. You're an idiot.
Regardless of that though. It still felt important for the wedding to be as outsidey as possible. To have an open and natural feel.
A sort of free-range wedding.
Where guests could roam unimpeded. Without rules, restrictions or beak clipping.
Nothing stiff or formal, thanks very much. No tableclothes. No three-course meal. And no string quartet.
We chose the venue for its outside space. A very English village hall affair. Set in the beautiful countryside of East Sussex. Just down the road from our home in Brighton.
The hall was nice enough. 1930s Arts and Crafts style.
But what sold us, was the paddock. A lovely green open space.
Where we could lay out rows of hay bales for our outside 'ceremony'. Drink Pimms and elderflower fizz on the grass in the afternoon sun. Before heading into the village-fete style tent. For a serve-yourself paella wedding breakfast on rustic wooden tables and benches. And then into the hall for an uninterrupted night of dance floor action.
So we planned the whole day around good weather.
We knew there was plenty of room for a Plan B if necessary. We had the marquee and the hall. A bit of rain wouldn't spoil our day. We could adapt.
But we didn't want to adapt. And we were hopeful that we wouldn't need to.
The end of July. Even in the UK. Our odds were pretty good.
***
Then. The week before the Big Day. Everything went to pot.
The Met Office issued a weather warning.
A severe weather warning.
For just our specific East Sussex corner of the UK.
From Friday to Sunday.
Non-stop torrential rain. Wind. And general shitty weatherdom.
Outdoor activities and events were srongly advised against. For the whole weekend.
Bam!
I was, quite literally, winded.
Ok. So a spot of rain. A brief shower. Fine. We were ready for it. But three days of torrential rain and wind. With a marquee. A muddy paddock. And a floor length lace dress.
You're kidding, right?
And that was it.
I snapped.
Enter stage left: Bridezilla.
After 9 months of keeping my cool, I suddenly reverted to my former glory of unreasonable 5 year old. Feet were stamped. Lips were wobbled. And soft furnishings were flung across rooms.
And then the irrational crying started.
At first I irrationally cried from disappointment. That our wedding day wouldn't happen the way we'd hoped.
Then I irrationally cried from the feeling of injustice. That only our small part of England was being affected.
And then. Well. The irrational crying became about something else irrational altogether.
As with many things over the last few years – it became all about Mum.
And this time, my irrationality reached a whole new level.
The bad news about the weather had confirmed one horrendous thing to me. The validity of my biggest fear since Mum had died three years previously:
That there was no after-life.
Well. How could there be?!
If she was out 'there' somewhere. Wherever 'there' may be. In whatever form that took. There was no way she would have let this happen.
Freakishly terrible weather on my wedding day?
No siree. Not on Mum's watch.
After almost three years of talking to her out loud. Of feeling like she was with me at random moments. Suddenly – with one lousy Met Office weather warning – I realised it had all been a lie. She wasn't there. And I was very much alone.
I was inconsolable.
I threw myself on the bed and wailed into the pillow.
Between sobs I confessed my theory to my worried-looking future husband.
That the forecast of near-apocalyptic weather on our wedding day proved that Mum wasn't 'out there' somewhere, watching over me.
He stroked my back sympathetically.
Then. As if he was talking someone down from a ledge. He very slowly, softly and warily said:
"Erm, there is a possibility, darling, that your Mum is still out there somewhere… But perhaps that… erm, she doesn't control the weather?"
I realised how ridiculous my warped logic sounded out loud.
That a severe weather warning from the Met Office had proved the lack of existence of the afterlife.
But nonetheless. I couldn't shake the feeling.
Unsatisfied. I called my best friends. Wailed down the phone to them about the weather for a bit. And then sheepishly told them my latest irrational idea.
The line went quiet for a moment. Then. A deep sigh. And then, with an exasperated laugh:
"For Christ's sake, Angela. What is wrong with you?!
Your Mum doesn't oversee the weather!… She's not God!'"
I burst out laughing.
Of course not. What was I thinking?
I snapped out of Bridezilla mode toute de suite. Pulled myself together. And worked out our Plan B.
Rain. Schmain.
It didn't matter what the weather was like.
Even decked out with wellies and brollies galore, it would still be wonderful. And Mum would still be 'there'.
***
And do you know what?
The Met Office were right.
But only partly.
Yes. On the Friday. The day before the wedding. While we were getting the venue ready. The weather was abysmal.
It poured with rain. We all got drenched.
And yes. Again on the Sunday. When everyone was clearing up. The weather was horrific.
But in-between.
The Saturday.
The actual day of the wedding.
It was as if the day had been super-imposed.
Because it was bizarrely perfect.
Bright blue sky. Sunshine.
A miraculous summer's day amidst freakish autumnal tempests.
Even the paddock was okay.
After 24 hours of non-stop rainfall. There was no water-logging. No sign of mud. Not even puddles.
It was as if 'someone' 'somewhere'. Had been involved. After all.
Okay. So perhaps she wasn't 'God' per se.
And possibly not even Controller of Weather.
But maybe.
Somehow.
Mum had managed to pull some strings.
And as irrational as that sounds.
I don't care.
Because it's what I like to believe.
And as everyone knows: you must never disagree with Bridezilla.
She always knows best!
***
If you've liked my writing – sign up below for my monthly take on life, writing & the quest for creativity. And get the FREE Funny Matters PDF download of my most popular posts…