About Funny Matters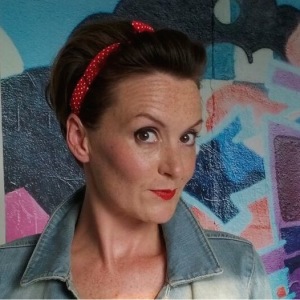 Welcome!
I'm Angela – thanks so much for popping by….
Funny Matters is all about the importance of humour during tough times.
Or another way of putting it – finding the funny in the dark!
Back between 2011 – 2012 I went through a right old 'periodis horribilis': an 18 month journey which started with my Mum's terminal diagnosis and ended with her funeral. If I'm honest it's a journey which is probably still ongoing to this day…
A hell of a lot happened over those 18 months. It was without a doubt the most difficult and painful time in my life to date. It threw my family and I up into a tornado of awfulness.
You know in disaster movies when the aeroplane door gets ripped off mid flight? It was a bit like that. Only without Tom Hanks. Or the CGI budget.
It was overwhelming. There was a lot of shock. Tears. And Anger. But what surprised me most was the laughter.
I learned that at even at the darkest of times there is opportunity to laugh. In fact, it's often the darkest of times that highlights the humour. The irony. The absurdity of life.
My mum had a cheeky sense of humour. And I'm proud to say I've inherited it. In fact it's always been a major part of who I am. I now realise it's inseparable from the rest of me. For better or for worse!
For me, humour is an important form of expression. A channel which allows us to direct many incomprehensible and overwhelming emotions into a positive direction. Rather than bottling things up, becoming bitter or angry, humour allows us to see situations and events from an alternative angle. Be that funny, amusing or just plain absurd.
Unknowingly – over the years – finding the funny in the dark has helped me let go of many tricky issues. It's enabled me to be more positive, hopeful and even – dare I say it – happy…
I set up this blog to share my belief that funny does matter. And that being able to find the funny amid the fear is vital when going through dark periods. Whether that's – like me – with grief, loss and bereavement. Or when dealing with depression. Or any other tough aspect of life.
Throughout my low times I've felt very alone in my experience. I spent many an evening searching online for others in my position who I could somehow connect with. Get some sort of comfort from our shared experience. But I was never able to find anyone I could really identify with. In outlook. Honesty. Or sense of humour.
I started blogging Funny Matters as a way to pay tribute to my wonderful Mum and our relationship.
But also to share the different aspects of my experience. Truthfully. Through my eyes. Through my sense of funny. To say loud and proud that it's okay to laugh when the chips are down.
In the hope that there are others like me out there who might feel slightly less alone as a result of what I write. Or who might want to connect with me and share their stories too.
If you haven't yet subscribed to Funny Matters' emails – then sign up below. So you don't miss any new posts!
If any of this – or my blogposts – resonate with you in some way and you'd like to reach out or just share your thoughts or/and experiences with me. Please do!
I always welcome comments after all of my posts. Plus there's my contact page which is an 'open door' for you to send me a private message if you'd like.
I also have a Facebook page which you can follow/connect with me through. Not to mention the little blue bird of Twitter too!